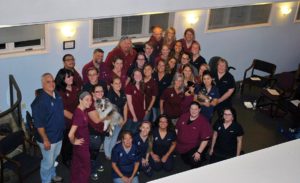 The Oakwood Veterinary Clinic employs more than two dozen support staff to assist our clients and their pets. From various backgrounds they all share a common goal: to provide exceptional service to our clients and the best possible care to the animals we see in our clinics each day.
Our receptionists are the first people you will see when you enter our building and the voice at the other end of the phone if you call the office. They will greet you when you come in and assist you with whatever you need. Alexis will answer any of your questions about our products and services. Kayla can schedule your dogs appointment and Nixie may notice that your cat is due for a Rabies vaccine. Brittney can book your cat's boarding reservation or Cassie could bring your dog back to treatment to have his sutures removed. Emily has the energy to multitask on the busiest day. Nancy needs no excuse to keep the hospital clean while Hannah and Chelsea help checkout clients. Jess has just called to remind you of your appointment the next day and Carmen or Jeannie can juggle client concerns and doctor's direction and pet problems with ease.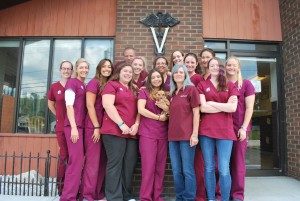 We have a knowledgable group of veterinary assistants to assist the doctors during their surgeries, in the treatment of hospital patients and with daily appointments. You may meet with Aleesha when you arrive in the morning to drop your cat off for surgery. Lucie and Lindsey will run lab work while Jessica joins the doctor in the exam room to assist during your appointment. Caroline cares for your pets while they are in the hospital for surgery or treatment. Casey can bring you to the exam room so Imre can load the image of your pets xray for the doctor to review with you and Lindsay might listen to your questions and concerns so she can relay them to the doctor. Chantal might shoot an quick email to the specialist about your pet and Jeannine will jump at the chance to assist you and your pets in any way you need.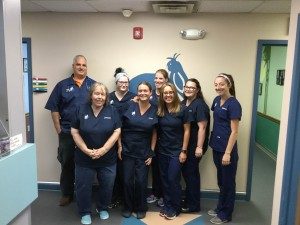 Mary is our Licensed Technician and might see you for a routine appointment, monitor surgery cases waking up from anesthesia and make sure the doctors are moving smoothly thought their day
At our Boght location we maintain a large boarding kennel for both dogs and cats. We have a staff of daytime and evening/weekend kennel workers to look after our canine and feline guests. Glen gives every pet in his charge lots of TLC in their home away from home. Mary Lynn manages to keep track of feedings while Lyrec looks to make sure everyone has water. Nathan needs to check the laundry frequently so it doesn't pile up and Angelo might assist in the treatment of boarding animals. Carlie or Christina could be called for a "clean up" in the waiting room or Kennedy and Chloe can discharge your pet when they are ready to go home.
With two busy practices and two locations it takes a great group of people to work together as a team to provide for the care of you and your pets. We are lucky to have an amazing staff that can work together to accomplish this goal.